Picture this – you and your family walk into a restaurant. You find an open table, browse through the menu options, and select your order using a wireless device. When your food arrives, that's the first interaction you have with someone on staff at the restaurant. Could the days of having a waiter take your order become obsolete in the not-so-distant future? How would you feel about that?
I recently asked myself the same question when I first encountered a quasi-waiter-less ordering system. My boyfriend and I were out of town for a wedding. We were looking for a quick, late-night bite to eat near our hotel. From the window of our room, we could see the neon glow of the Applebee's sign just across the parking lot. Half-price appetizers after 9:00! Done.
We walked in and were directed by the bartender at the entrance to have a seat anywhere. We sat down and immediately noticed the slick, black, tablet-like device in the middle of the table. Menus were already at the table, but we were quick to push them to the side and start scrolling through the appetizer options.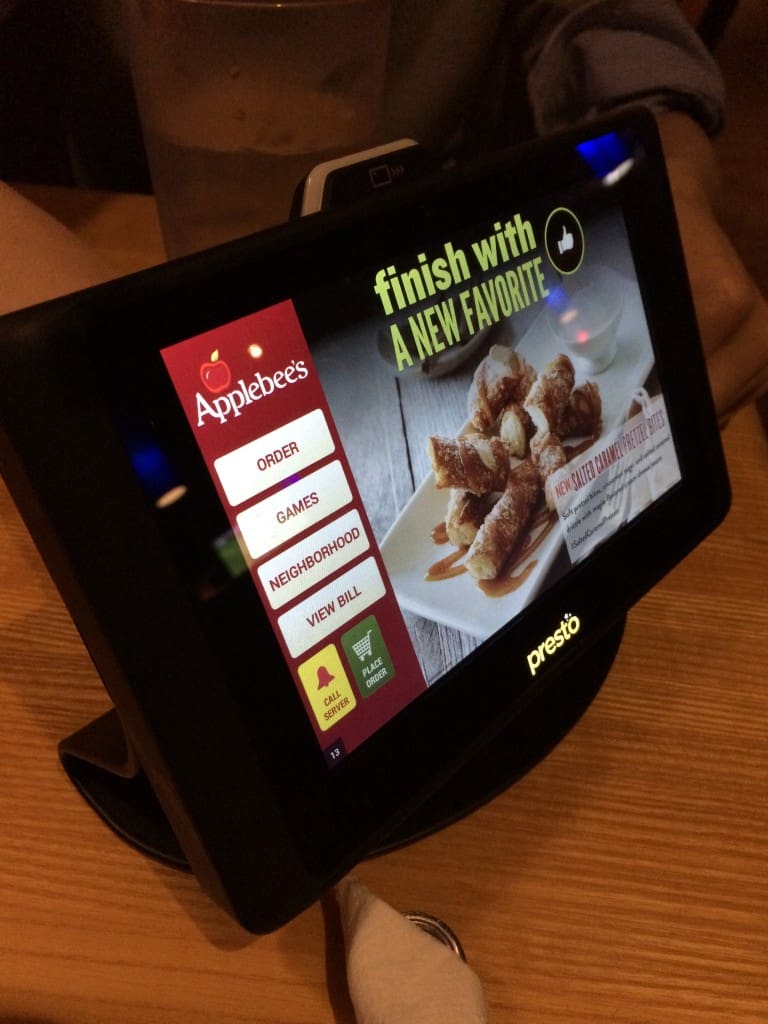 Each one of the options had a photo, and you could select an item for a brief description. We added our selections to our order list before our waitress greeted us at the table (which was approximately three minutes after we sat down). She explained to us that we could order appetizers and desserts from the table top device, but all entrees and drinks should be placed with her. We told her we had already submitted our order and she was happy to tell us that they should be ready shortly. The device was self-explanatory, easy to follow, and had extra screens for preferences, for example ranch or blue cheese dressing with the wings.
Before we knew it, our food arrived and we were impressed with the timeliness. Our waitress checked back to refill drinks and ensure we were okay.
When we were done, there was an option to pay with the device or give our payment to the waitress. Can you imagine that? Never having to wait for the check ever again! We wanted to pay with the device, but our waitress said they were experiencing problems with the system that day.
Overall, I enjoyed my waiter-less dining experience. But think of the most memorable meals that you've had at a restaurant. What made them so special? I can vividly recall my 29th birthday dinner. The food was spectacular, but even more so, the waiter was phenomenal! He was part of the charm and ambiance of the experience, making our meal that much more special. A waiter-less meal probably wouldn't have been the same.
So going back to my original question: how would you feel about a waiter-less restaurant? Does this take away from the dining experience or enhance it?