Ugh! Over the past few months, my Facebook news feed was inundated with an influx of video uploads courtesy of the ice bucket challenge.  During the month of August as I scrolled through my feed, videos would start to play one after the next.  In fact, Facebook announced that they had 2.4 million ice bucket challenge related videos posted to their site during the month of August.
What aggravated me even more was knowing that this feature was running through my monthly data plan faster! (Read as: Ah! Not my monthly data!)
Facebook originally added the functionality of auto-play to be more competitive with apps like Instagram and Vine.
The demand of Facebook's users to allow the option to disable the auto-play feature was heard loud and clear. You can bet that I was one of the first users to turn off auto-play.  (Note: If I want to watch a video from here on out, I simply click the play button on the video post.)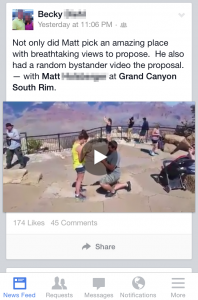 ---
Follow these short steps to turn off auto-play on your own device!
iPhone and iPad
1. Select the Settings icon on your device.
2. Scroll down and select Facebook
3. Select Settings
4. Under video, select Auto-play
5. Choose an option
Android
1. Open the Facebook app
2. Select your phone's menu button
3. Select Settings
4. Scroll down and select Video Auto-play
5. Choose an option
On your desktop
1. Go to Settings and click Videos
2. Click the drop-down menu next to Auto-play Videos
3. Select Off