Do you ever find yourself continuously sending emails to the same groups of people? I do. Still, it feels like I'm constantly reviewing and thinking "who did I miss?" Then I wised up and realized there's a solution for that! Now you can stop racking your brain with questions like, "who was on that committee?" And there's no longer any need for my go-to technique of adding people based on their office location in order from front to back. The answer — create a new distribution list in Outlook (2013) and you'll no longer need to worry about forgetting to add anyone!
Follow these steps:
Create a list of the people you want to add.
In Outlook, click People from the navigation bar at the bottom.
Under My Contacts, pick where you want to add the contact group.
Type a name for the group in the Name field. 
Click Add Members, and then add people from your address book or contact list.
Click Save & Close.

When you need to send an email to this group of people, simply begin to type the name you saved the list as, and it should appear. Click the list to select and use.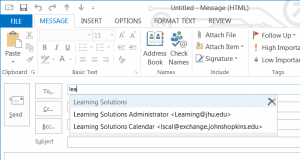 Note: clicking the plus sign next to the contact list name will display each individual your message will be sent to.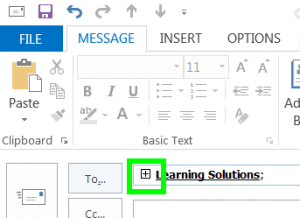 Do you have any useful tips about creating groups in Outlook?