Every piece of software you install, or browser you use to surf the web, has settings.
Does that gaming website really need to know you are currently in Baltimore? Does your favorite recipe website really need to notify you every time something changes plus track your location?
I say NO!
A lot of websites think it is perfectly acceptable to track your location and send notifications. We are losing our right to privacy because many users simply click OK or never check their settings for newly installed software.
Here are directions on how to disable these options in Chrome:
Open Google Chrome.
At the top right, click the MORE icon.
Click SETTINGS.
Scroll to the bottom of the window and click SHOW ADVANCED SETTINGS.
Scroll to the PRIVACY section.
Click CONTENT SETTINGS.
Scroll to LOCATION and select DO NOT ALLOW…
Under NOTIFICATIONS, select DO NOT ALLOW…
There is not a SAVE option. As soon as you click an option, it is saved.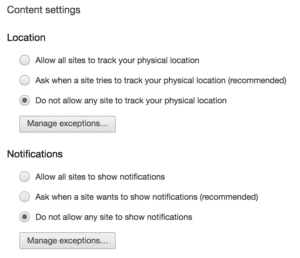 Check out these links for more information:
All of Chrome Content Settings:  What They Are and How to Get to Them
How to Change Chrome Location Settings
How to Change Chrome Notification Settings